Revitalizing a constantly disrupted banking environment
Between legal regulations, Fintech & Neobanks, the historical actors of the banking industry are having a hard time offering up-to-date services.

More than just copying new features, it is about identifying and taking into account new user needs to create innovative experiences and services both for consumers and professional bankers.

With our clients, we work equally as much on forward planning through deployments and prototypes as on production through the continuous improvement of existing solutions.
Featured projects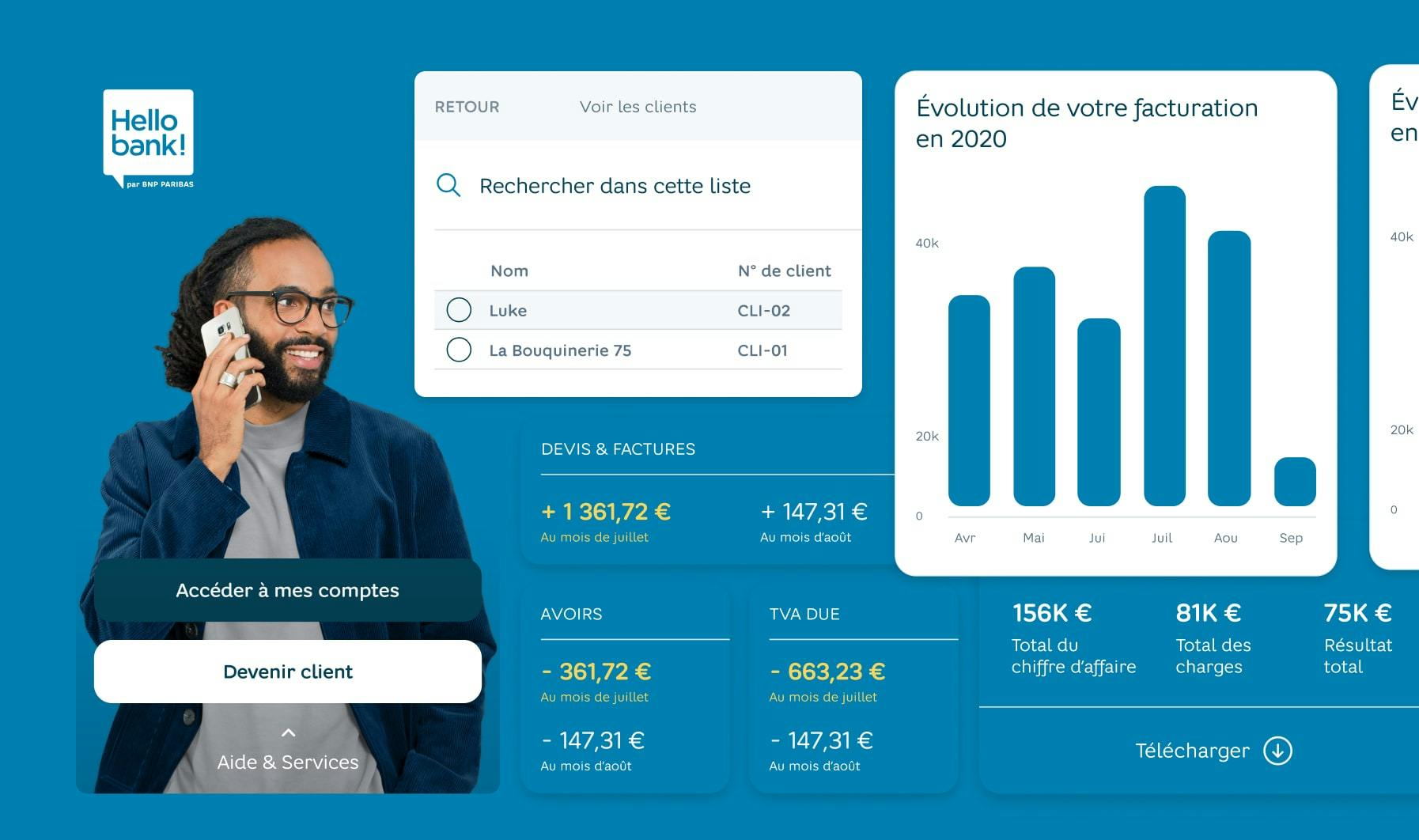 BNP Paribas & Hello Bank!
Customer experience - Hello bank! Pro
How to adjust the banking experience of professionals, whether they are self-employed, craftsmen or freelancers
Customer experience - Hello bank! Pro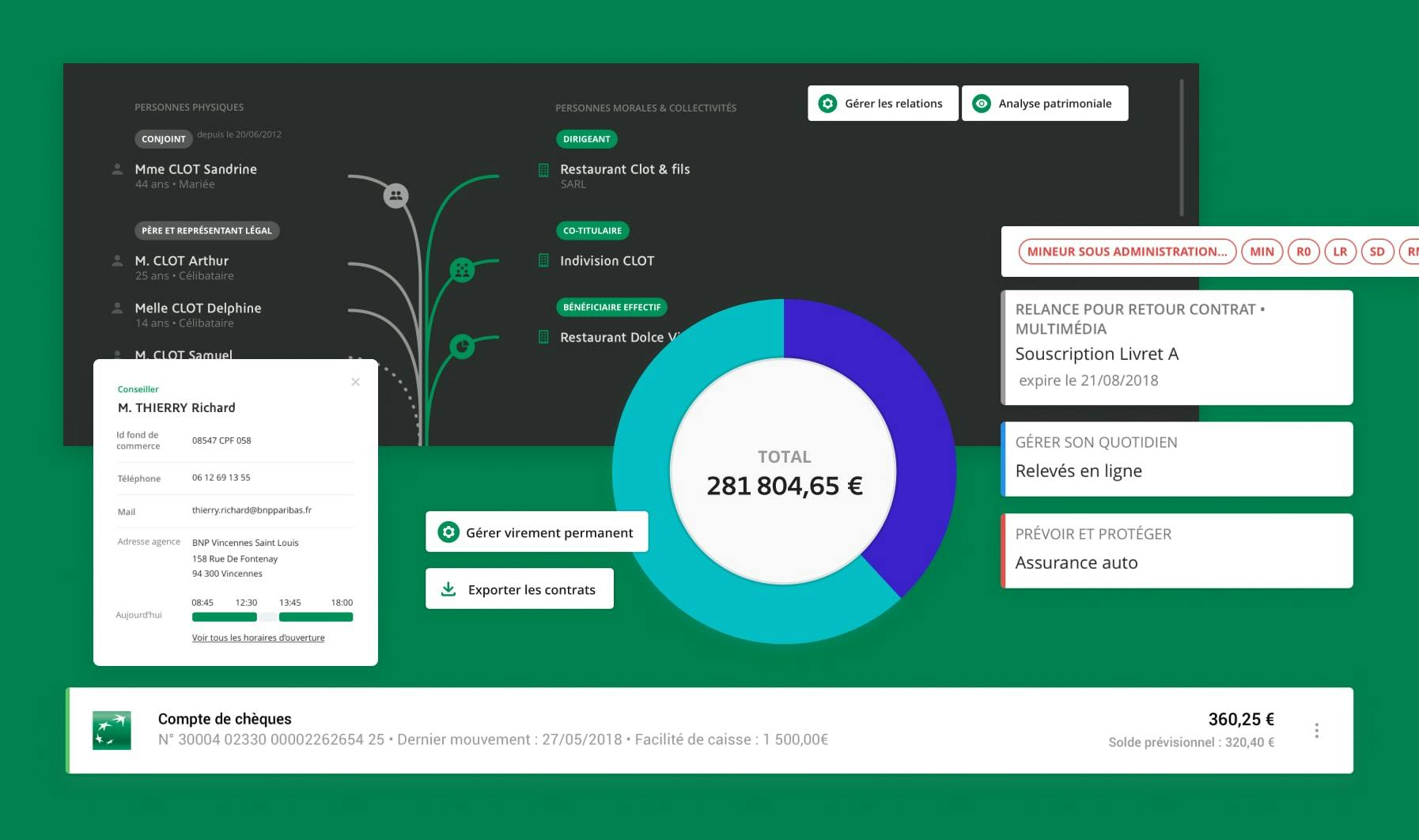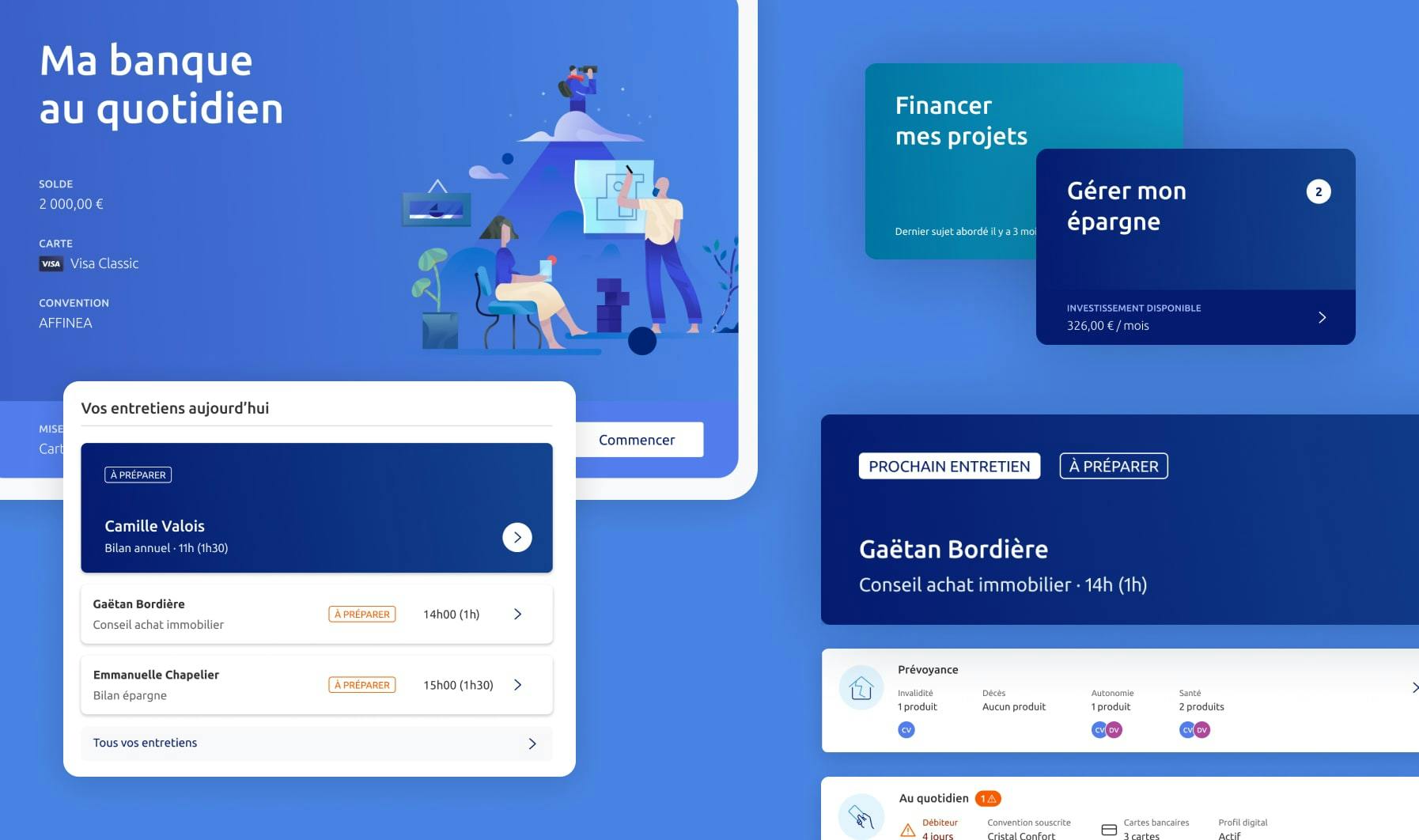 Banque Populaire-Caisse d'Épargne
Redesign of the application for banking advisors
How to identify new improvement opportunities for the BPCE Advisor application and help internal teams build a 2021 roadmap
Redesign of the application for banking advisors
More finance projects from our index
Holis

Iterations on the overall navigation

BNP Paribas & Hello Bank!

UX/UI optimization of the Contact business software

Edenred

EasyFuel - Driver mobile app

Edenred

Falcon - Fleet manager dashboard

Holis

Creation of a data analysis platform for Private Equity investors

BNP Paribas & Hello Bank!

Customer experience - Check capture (Scanbox)

Liberté Living Lab

Kosmos - Concept & prototype (One credit card to replace them all)

Liberté Living Lab

Etik - Concept & prototype (Banking products for muslims)

Liberté Living Lab

Tidd - Concept & prototype (Cyber security services)

BNP Paribas & Hello Bank!

Customer experience - Electronic signature of contracts

Société Générale

Admin console - Employee management interface

BNP Paribas & Hello Bank!

Customer experience vision for 2025

Sunday

Design of new service

Crédit Foncier Immobilier

Design of a real estate valuation tool

Société Générale

Piou - Optimization of employee onboarding

Banque Populaire-Caisse d'Épargne

Advisor interview - UX/UI optimizations

BOB

Best of banking, for entrepreneurs

Banque Populaire-Caisse d'Épargne

B2C Application - Emotional Design

Allianz

Quote request - UX/UI optimizations

Liberté Living Lab

Simis - Concept & prototype (Automatic discounts on recurring expenses)

Axa Banque

Redesign of the B2C mobile application

Société Générale

Stargate - Management of sensitive data

Société Générale

Corporate Platform - Redesign of the employee portal

Société Générale

Design & management support for the UX team

BNP Paribas & Hello Bank!

Customer experience - Notifications orchestration

BNP Paribas & Hello Bank!

Customer experience - Chatbots & voicebots

Liberté Living Lab

Sgive - Concept & prototype (Charity initiatives)

BNP Paribas & Hello Bank!

Biowatch - Innovative payment solution

Liberté Living Lab

Lyxor - Datathon around financial products with CSR criterias

BNP Paribas & Hello Bank!

Customer experience - Satisfaction

Liberté Living Lab

Nexes - Concept & prototype (Societe Generale Intrapreneurs)

Liberté Living Lab

Coalescent - Concept & prototype (Rental investment)

BNP Paribas & Hello Bank!

Master class - Support for change and transformation through Design Thinking

BNP Paribas & Hello Bank!

Customer experience - Immediate customer support

Banque Populaire-Caisse d'Épargne

Reflection process about the advisor interview experience

BNP Paribas & Hello Bank!

Master class - Design acculturation through initiation into product design